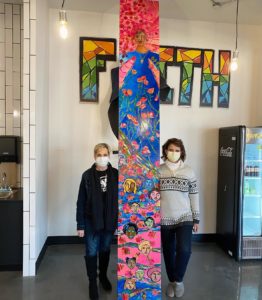 DV8 Kitchen is a local restaurant & bakery that employs people in recovery from substance use disorder who are trying to redirect their lives. Their original location on South Broadway has thrived since opening in August 2017 and it is expanding to a second location in Lexington's East End (at the corner of Midland Avenue & Third Street).
In celebration of the new location and preparation for its opening this spring, the DV8 team created a fun project. They are hosting a contest for local artists to design and paint a table to go inside the restaurant! We have partnered with Natalee Chartier, who designed and painted a huge, beautiful table in honor of our Rachel House home for women in transition from addiction. If she wins the popular vote, DV8 will donate $1,000 to Rachel House!
How You Can Help
Simply vote for Natalee's design by liking the post about her table on DV8's Facebook page! Voting will be open from Wednesday, February 10 at 5 PM until Wednesday, February 17 at 7 PM.
Natalee was inspired to make this table through a conversation about the mission of Rachel House and its history with our director, Tay Henderson. She even incorporated a tribute to the Lighthouse Ministries visionary and founder, Dan Henderson, who passed away before seeing it all come to life. We are so honored to have this living in the community, and I know we will always want to sit at "our table" when we visit the restaurant.
DV8 Table Art Reveal
DV8 is hosting a live stream on Wednesday, February 17 at 7:15 PM EST. You can join the virtual event to see them announce the winner of the Facebook voting contest and there will be a live judge's panel to choose a second winner! Tune in to see the designs!
Thank you for your support!
**UPDATE: We Won!
Thank you to everyone who voted for us. We won the $1,000 first place public contest prize. Natalee's beautiful design also won the $500 third place judge's choice prize. Congratulations to Shepherd's House for winning the first place judge's choice. View photos from the event on our Instagram page.