Originally written in 2014 by Valerie "Tay" Henderson, Executive Director.
In May 2003, our world turned upside down when my husband's liver condition forced him to take emergency retirement from the Post Office. In January 2004, while going through liver transplant surgery, Dan Henderson passed away. That had not not been the plan in my book. All the hard work that he and so many people had done on the Lighthouse was hanging there waiting for some direction. I had a job, a life, children, and grandchildren. I wasn't looking for anything else to do and it certainly wasn't running the Lighthouse. During my husband's funeral, Pastor Bob Hauselman asked, "Who is going to take the mantle?" God whispered in my heart, "Tay, the mantle is yours." I remember saying, "Oh my goodness, these poor people at the Lighthouse. I'm going to have a lifestyle change."
I told God that I would go where ever he wanted me to go and I would do whatever he asked me to do. I knelt by the front door and told Him that I would be a doorkeeper in His house. And I meant it. I surrendered completely to His will. I'm glad I was here.
And so it began
I was ordained later that year because I figured if I was going to get involved in people's lives, I needed to be prepared. I did not know that the first funeral I would do would be a young man who killed himself. It was tragic, and all his friends and family were tattooed, pierced and riding motorcycles. I thought, "God, you never give me anything easy." After it was over, I told God, "Thank you that you could use me to help these wonderful people who were hurting." It was an incredible feeling. God, I'm glad I was here.
The first wedding I performed was for two elderly, widowed people. They were married at the home of the groom's mom. And I cried. I'm glad I was here.
Early on, a man named Mike Miller helped me teach recovery classes for the community. I knew he had some struggles. He came in one day and told me he was working in a liquor store with another Christian and they were having great fellowship. And I thought, "He's pretty convinced this is good." I told him to ask his Pastor what he thought about it. The next time I saw Mike, he said he'd told his Pastor and had quit his job. Imagine that. He ended up coming into our men's recovery program and graduating. He worked on staff for awhile. Now he works for Kroger and has a feeding ministry called Bread of Life Ministries out of Broadway Christian Church several nights a week. I'm glad I was here.
Then, Danny Iofi with Born Again Delivered Disciples came from California. He helped me with the men's program. He was from Somalia. Danny had problems with authority and with women in authority. One day after a pretty heated discussion, he said, "I'm not like you… Mother Teresa!" And I said, "I'm not mean like you, Danny." I'm glad I was here.
God heals
One day I met a man named Rocky Atkinson. He ate at the Lighthouse on a regular basis. When he finished, he'd get on his bike and ride off. He had a water bottle on his bike that was filled with vodka. Day after day I would sit outside. When he showed up, I would talk to him and he would cry. He was living in a house with no utilities. I knew God was dealing with him. He came into the men's program, I led him to Christ, and he then completed the program and graduated. That was 8 years ago. Recently, he painted a room for me. I had to pay him. I love Rocky! I'm glad I was here.
Then came John Mincey, a man who had been incarcerated for 19 years. When I met him, I thought, "This is our first two year project." After he was here a couple of days he told me what he was going to do… and then I told him what he was going to do. Adam, our men's program director, spent a lot of time with John helping him adjust to society. He took him to a coffee shop and taught him how to drive. He still needs help in that area. I've ridden with him. After he graduated, he moved into our transition house. We had talked about him getting a dog but I hadn't made a decision yet. One day, he came into my office with a puppy. That puppy was the first real thing that was his own and he loved it. So what was I supposed to do? John knew what he was doing—he had already named the dog Tay—so I had to say yes. I'm glad I was here.
Through the good times and bad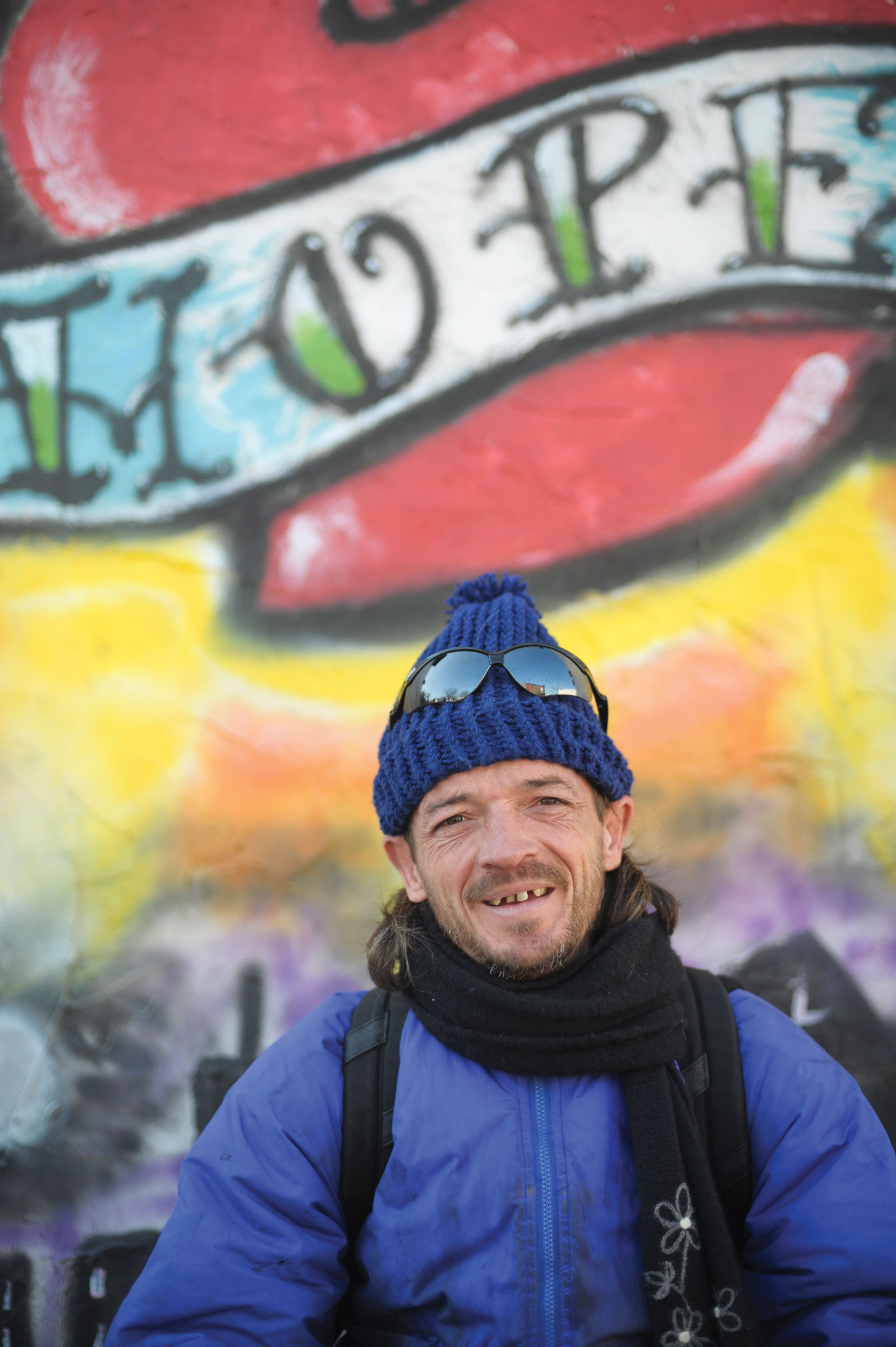 Michael Sanderson was a character. One day, a staff member came to me and said I needed to come outside. I went outside and found Michael—with clearance stickers all over his face. I thought, "Lord have mercy, what do we have here?" He was the sweetest person. Even with cigarette butts in his ears. He served time in prison for flagrant non-child support. Adam thought that his time in prison may have messed him up. Adam began working him—meeting numerous times trying to get him off the streets and into our program. He was addicted to huffing paint. We scheduled Shaun Ring, a local photographer, to take photos for a van wrap that was being donated by AdColor. I asked Michael if he would let us take his picture. He came, walked right up, sat down and Shaun took the most beautiful photo of Michael. It is my favorite to date. My daughter Danielle, who worked with us at the time, had contacted his family and tried to reunite them. Michael quit coming around and I figured he went to Paducah to be with his family, but his son, Tyler, reached out and asked if I had seen his dad. I told him I figured he'd gone home. He then told me they were pretty sure that the body of a 45-year-old man found floating in Lexington's Lake Ellerslie was him. We were torn up. I asked Tyler to tell his grandmother that we loved Michael and made sure he had what he needed whether it was food, clothes or shoes. Our hearts were broken. I'm glad I was here.
And then there's Ondrea Walker who was on probation or parole in our program. He was a very young man at the time and struggled with wanting to go on for God, but keeping one foot in the world. He left the program and ended up back in prison. He always told me that he wanted to be a role model for kids and I could see it in him—but you have to make right decisions. You can't lead others if you can't lead yourself. Since he's been out of prison, his whole life has changed. He is helping young kids by volunteering in an after-school program, coaching basketball, being a role model in the community. Not a week goes by that I don't hear from him. I think he loves me like his own mother. I'm glad I was here.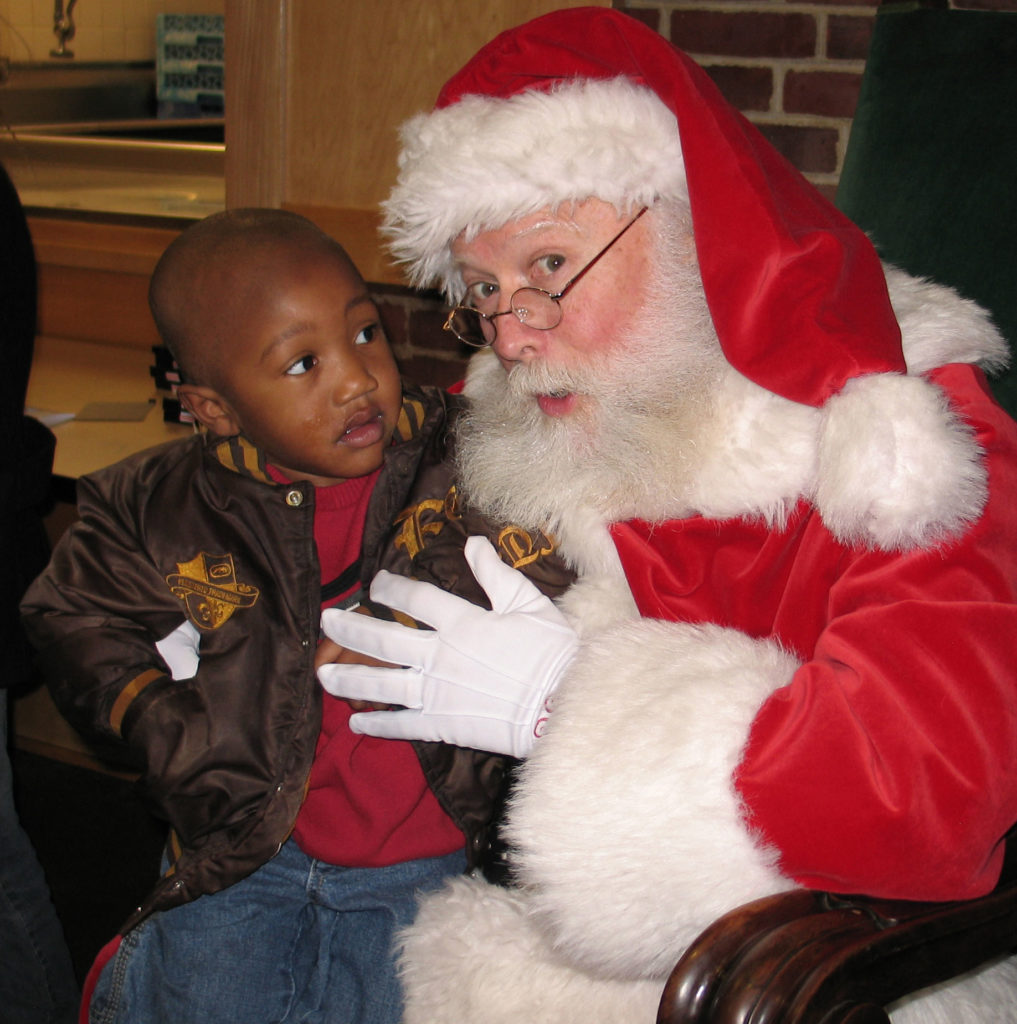 I got to thinking about all the Christmas presents we've arranged for people. One year I told God just like I'm talking to you now, "I can't do it anymore. It's too much work and it costs money and I don't know if it's worth all that." And God just said, "Are people depending on you for their Christmas?" I thought about it and pictured all the little kids and the people who said, "If you didn't help our family we would not have Christmas." And I said, "Yes, there are people who depend on us for their Christmas." And so we continue to do Christmas! I'm glad I was here.
For all the times I heard someone say to me, "Ms. Tray, Ms. Tia, Ms. Kay, Ms. Fay," and just "Hey"… what means the most is, "I love you Ms. Tay. Thank you for everything you do for us and please don't ever quit." I'm glad I was here.
Our donation page offers a variety of methods to support us if you'd like to do that in 2020.